Well another wave of good things from Trillian, after the silent release of a stable Jabber.DLL for Jabber communications (and the ability to login to Google Talk) I am now also happy to report that I'm able to login to our companies Microsoft Only Live Communications Server from Trillian.
Microsoft supports access to their network via TLS and SIP. So the SIP plugin for Trillian with a little coaxing was able to do the trick. I am able to see my buddy list and exchange messages with them. Nothing super fancy, but good for 99% of what I want to do at work. I know voice is up and coming but seriously until we all geek out and wear headphones, or get microphones that properly don't get feedback from my speakers that is a bit off... but I digress.
You can download it here: http://zoosmart.us/sip/
So the settings were pretty clear...
user: [email protected]
Windows login: DOMAINemail
(x) TLS
Server: LCS.ADDomain.company.com
I tried using the ip address, and it didn't really like that. I think it needs the DNS name of the machine so that it can properly look up the SRV records in DNS.
After hurting my back, I've decided I need to get into a regular Yoga class to continue to work on my bodies allignment and strength.

An article in Sign On Sandiego on Yoga

Update:
This is the location I finally selected, they have a location in Point Loma and Bay Park.


San Diego Yoga Studio
4134 Napier Street

San Diego, CA 92110

Cost: $12.00


There are two Yoga places near me...
Radiance Yoga

1618 W Lewis St

San Diego, CA 92103

Phone: 6192991443

Cost: $14.00


and


Astanga Yoga Center Hillcrest

1450 University Ave.

San Diego, CA 92103

Phone: (619) 294-7792

Cost: $12.00

One of the interesting things about the new Video iPod is the ability to subscribe to Video Podcasts, and have the ability to sync them to your Video iPod... this all assumes that you have an Video iPod, which I don't. But I do have a excellent Sony PSP, which actually has a larger screen. I have also found that the most recent Google Video site, allows you to download the uploaded content in PSP format as well as iPod. So I set about trying to make this work
Bottom line... I now can podcast the Suicide Girls Video and transcode it into PSP format and have an excellent viewing experience on my PSP. There are notes on how to do the same with the DVD's in my cabinet... but that is another weekend project.
http://video.google.com/
http://www.apple.com/itunes
Sony Media Manager
http://www.sonymediasoftware.com/shopping/item.asp?pid=378&disp=1
How to Convert
http://hardware.gamespot.com/Story-ST-11721-1725-x-x-x
http://www.pqdvd.com/psp/ - PSP Movie Creator
http://www.jakeludington.com/ask_jake/20050328_convert_dvd_movies_for_your_sony_psp.html - DVD to PSP
http://www.imtoo.com/pspvideo.html - IMToo
http://www.pspvideo9.com/ - PSP Video 9
RSS Feeds
http://www.makezine.com/blog/index.xml
http://www.videora.com/ - Downloader for PodCasts
PSP Casting
RSS->PSP Video 9->PSP
http://www.pspvideo9.com/pspcasting.html - PSP Video Converter
http://www.videora.com/en-us/Download/trial.html - Videora - BitTorrent client?
PodCasting Software
http://www.podcastshuffle.com/2005/07/one-click-subscribe-itunes.html
PodCast XML/RSS structure
http://www.podcastdirectory.com/help/createxml.php
Not much to this entry, but think of all the Album Art for Iron Maiden albums... but rather than Ed in it, its Sponge Bob. 🙂
http://kebawe.com/wallpapers/maiden/SpongeEd.shtml
I don't have time to update all the details about how I hurt my back, or how I'm doing, but I thought I would share a handful of pictures that atleast show WHAT happened. The first picture of the two shows a part of the nerve column where it ISN'T herniated... the second picture shows how the nerve column becomes 'pinched' by the herniated disc.

SPINE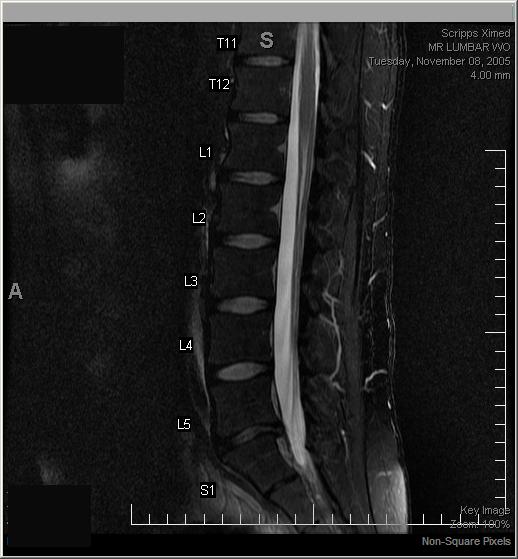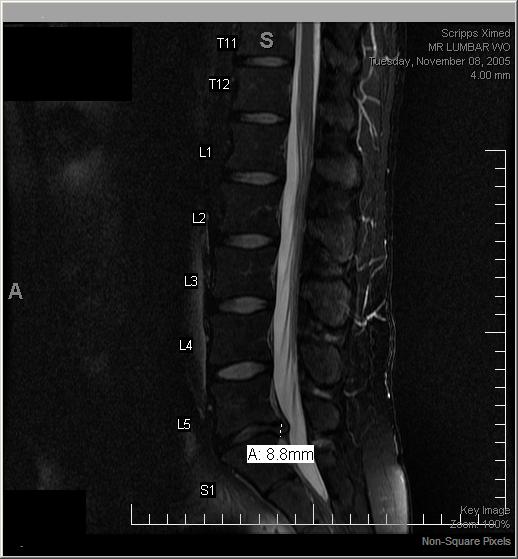 DISC